King Lear's green valley saved from destruction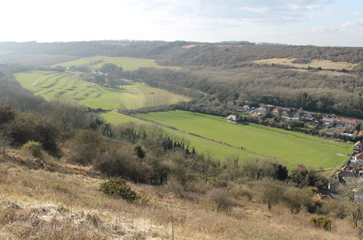 Plans for 600 homes on an area of outstanding natural beauty in Kent that inspired Shakespeare have been halted after an appeal by the Campaign to Protect Rural England.
Two judges quashed planning approval for the huge development in Farthingloe Valley, behind Shakespeare Cliff, which inspired a passage in King Lear when the blinded Earl of Gloucester asks to be led to the cliff edge to throw himself off.
The valley is also said to be where, in Arthurian legend, Sir Gawain fell in love with the Lady of Farthingloe while returning to Camelot from the continent.
Christine Drury, chairman of CPRE Kent, said: "This case is not just important to the people of Dover but for the principles of planning law because [these areas] have the highest possible level of protection. The developer and planning committee knew the scale of the development would cause severe damage but rejected all efforts to mitigate this."
The valley once housed 1,600 workers building the Channel tunnel. The temporary village, in 38 blocks, centred on Great Farthingloe Farm. It was demolished after the tunnel was completed in 1994.
Click here for Kent Online's report
And click here for a detailed history of the site