Franklin's ship discovered in Arctic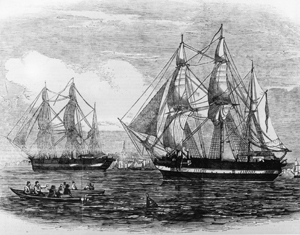 The polar explorer Sir John Franklin's ship, HMS Terror, has been found in pristine condition at the bottom of an Arctic bay, nearly  170 years after she and her sister, HMS Erebus, disappeared during a disastrous expedition.
Franklin left Greenhithe in Kent in 1845 with a crew of 129 men, including sailors from the Medway towns, to chart the Northwest Passage in the Canadian Arctic. Erebus and Terror are pictured.
After they failed to return, dozens of Royal Navy vessels went in search of the missing ships and crew. By 1854, 22 expeditions had set off. In 1859 a vessel chartered by Franklin's wife, Jane, found a message left in a cairn by a crewman which reported that Franklin and some of the men had died while the ships were trapped in ice in June, 1847.
The Kent connection is told in Bygone Kent Volume 34 No 6.
Click here to link to a report in The Guardian on the discovery.